Welcome to Folkestone Harbour & Seafront Development Company's consultation website for the second phase of development on the seafront in our masterplan for Folkestone Harbour & Seafront.
We are consulting the site known as Plot C1, which sits immediately to the east of the first phase, where construction is progressing well. We are keen to hear your feedback and thoughts on these plans.
The masterplan itself secured outline planning consent in 2015 with a series of amendments to the plans agreed in 2018. This all followed extensive public consultation over a number of years and now sets the parameters for all our developments. It is now fixed and not open for consultation.
This website is a resource for all our consultation materials. We invite you to take a look at the history of the site and the masterplan, which provides important context for our proposals today, as well as the plans for Plot C1. Then tell us what you think. Your feedback will help us to shape the future of this vibrant part of our town.
Folkestone harbour and seafront has seen significant changes in its two hundred year history, having developed from a small fishing harbour to become a freight and cargo port, ferry terminal and fairground. The site became run down and largely disused following their closure.
By the time we acquired the Harbour in 2004 and the Rotunda site in 2007, they had fallen into a state of serious disrepair. As well as bringing forward our proposals to redevelop the wider site, we have already repaired and restored much of the damaged structures of the Harbour and have begun to bring new life and purpose to the area.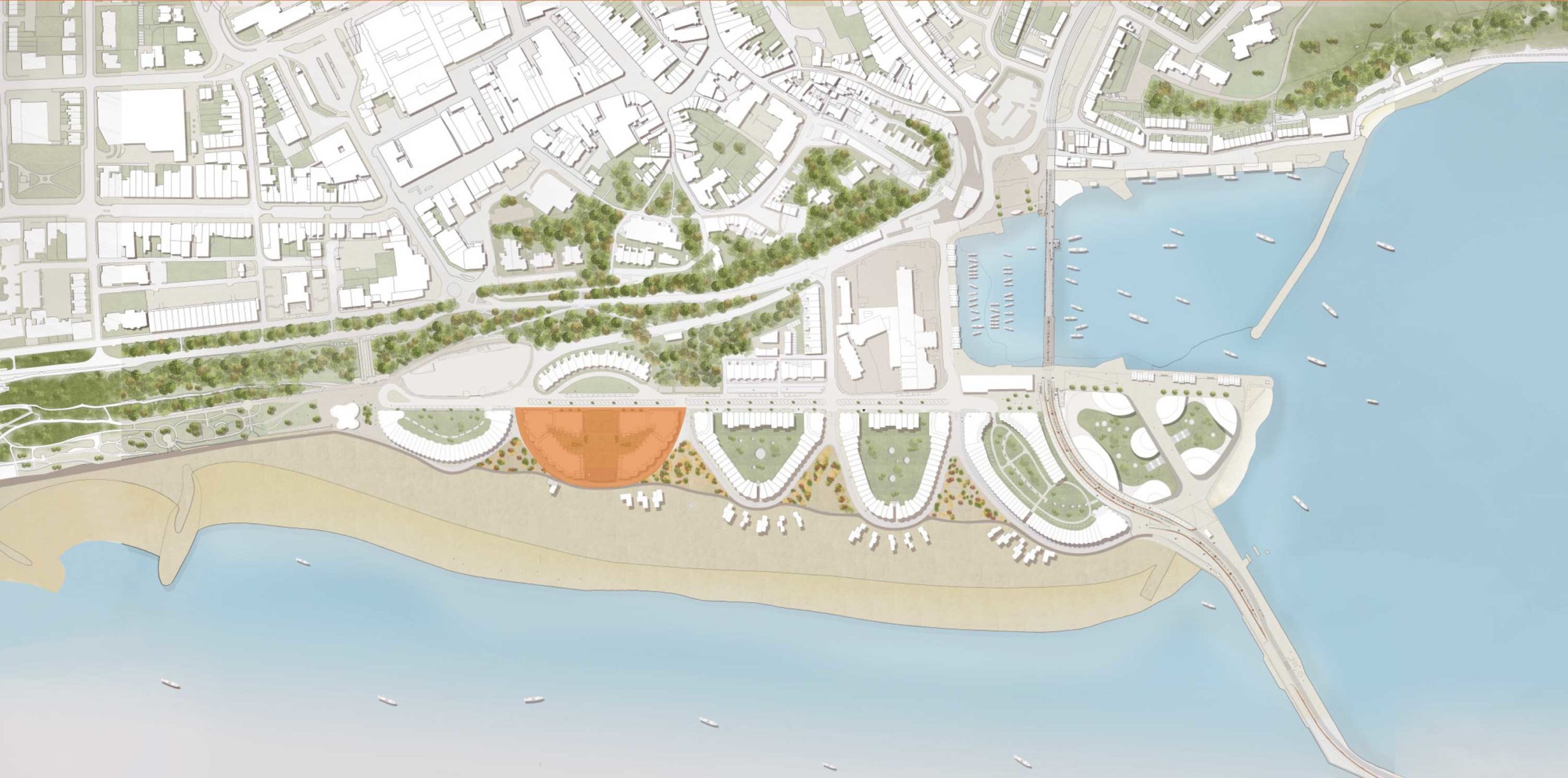 Our vision is to restore the dilapidated Harbour, harbour station and seafront that had, by the time we acquired them, fallen into a serious state of disrepair. We are creating a vibrant and attractive place that can be enjoyed both by those who live in Folkestone and those who visit it.
The masterplan for the seafront establishes the location, size and uses of buildings, but not the detail of what they would look like. The reserved matters application for Block C1 fills in those details not set out in the masterplan.
Plot C1 represents the next exciting phase of development on Folkestone Harbour & Seafront. It is an opportunity to bring new architecture, homes and commercial spaces to Marine Parade. New planting, shingle gardens and a play area around the site will enliven the boardwalk, with a new terrace for everyone to enjoy the sea views from.
The planning application will deal with the architecture of the individual buildings, landscape and practical details.
Our scheme comprises:
– 120 new homes
– New commercial spaces
– New public shingle gardens
– A play area for children
– Private podium gardens for residents
– New beach terrace
– 130 parking spaces
– 136 cycle spaces
The Folkestone Harbour & Seafront Development Company is hosting a public exhibition and digital consultation on proposals for Plot C1.
There will be a digital consultation running live in the week commencing 19 July for two weeks and a public exhibition will be at the Folkestone Harbour Station, on the following dates:
– Friday 23 July from 4:00pm to 8:00pm
– Saturday 24 July from 10:00am to 3:00pm
Online consultation webinars will take place on:
– Wednesday 21 July from 6:00pm to 7:00pm
– Wednesday 28 July from 6:00pm to 7:00pm
To sign up for Wednesday 21 July click here.
To sign up for Wednesday 28 July click here.
Do get in touch with the project team to find out more about how to get involved.
You can also download all the consultation materials here:
DOWNLOAD THE EXHIBITION PANELS
Please do take a look at the downloads and, after you have done so,  do take a moment to fill out the questionnaire below to give us your feedback.
---
Contact Us
Four Communications has been appointed by Folkestone Harbour & Seafront Development Company to manage the consultation for Plot C1. If you would like to get in touch with us to find out more, comment or have your questions answered please contact:
---