A new public piazza
Fountain Square is a key meeting point of Folkestone's regeneration projects and public spaces: on one side the Creative Quarter, The Stade, The Old High Street and town centre, on the other the viaduct leading over to the Harbour Arm. The square sits over the Pent Stream which now runs underground. This was once the focal point of the medieval harbour and, until damage during World War II, a maze of small streets and old buildings.
It was created to rejuvenate the underused space as an attraction that would live on to become a versatile new public piazza. It has quickly established itself as a community hub for eating, drinking, relaxing and particularly for children to play in.
At its heart are the interactive fountains, where children love to play and cool off in hot weather. Specially made multi-position jets can send water streams to heights of up to 3m, or rotate to bend them into arcs to run underneath. New patterns form at regular intervals, and softer jets are provided at the side for smaller children to play in. The water jets are carefully positioned so that innocent bystanders do not need to get wet, subject to the direction of the wind! By night the fountains are illuminated by lighting integrated into the base of each jet, creating a dynamic coloured light show.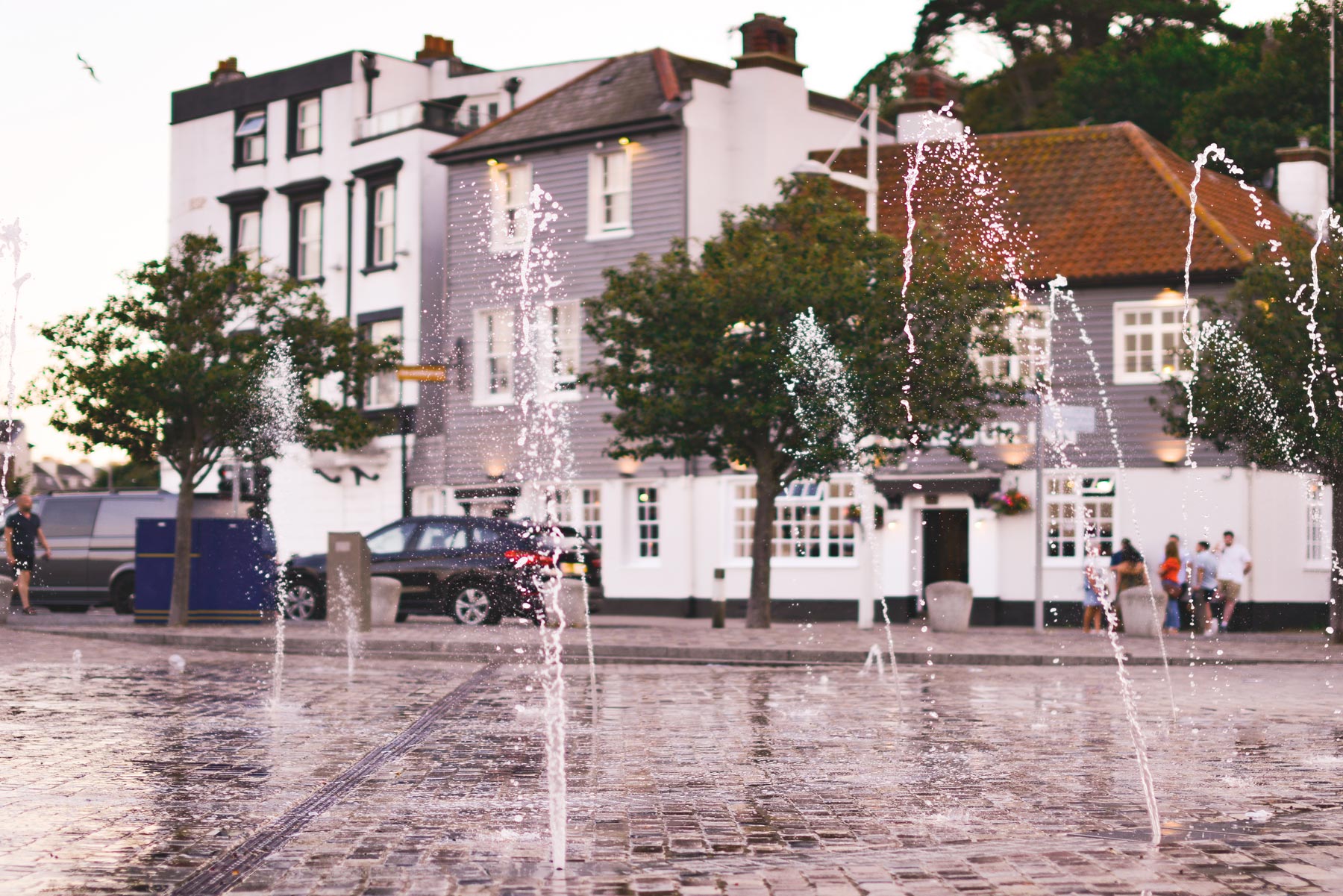 ---
Multi-purpose design
Natural stone paving is laid in a circular pattern; the cobblestone-like setts are a mix of granite, porphyry and basalt, their palette of pink, grey and buff tones matching sandy coastal colours. Granite bench seating around the square features integrated cycle parking and a gently stepped area towards the western end allows the space be used for alfresco events and performances.
As well as attracting more people to the square, the fountains have provided an improved setting for the surrounding bars, restaurants and kiosks. Renowned chef Mark Sargeant's RockSalt Restaurant sits adjacent to the eastern edge of the Square on a new concrete sea wall overlooking the harbour.
Fountain Square was designed by Guy Hollaway Architects with Mark Hanton Studio Landscape Architects and Mel Chantrey, resident artist at The Fountain Workshop.