From fishing harbour to international port
The construction of the railway branch line in 1843, followed by the Viaduct over the harbour and a station on the pier, completely changed the fortunes of  Folkestone, catapulting it from fishing harbour to international port. Built by the South Eastern Railway Company, the new line brought trains from the main line directly to the quayside, where goods could be efficiently transferred to or from waiting boats, and passengers travelling to the continent could stroll straight onto waiting ferries.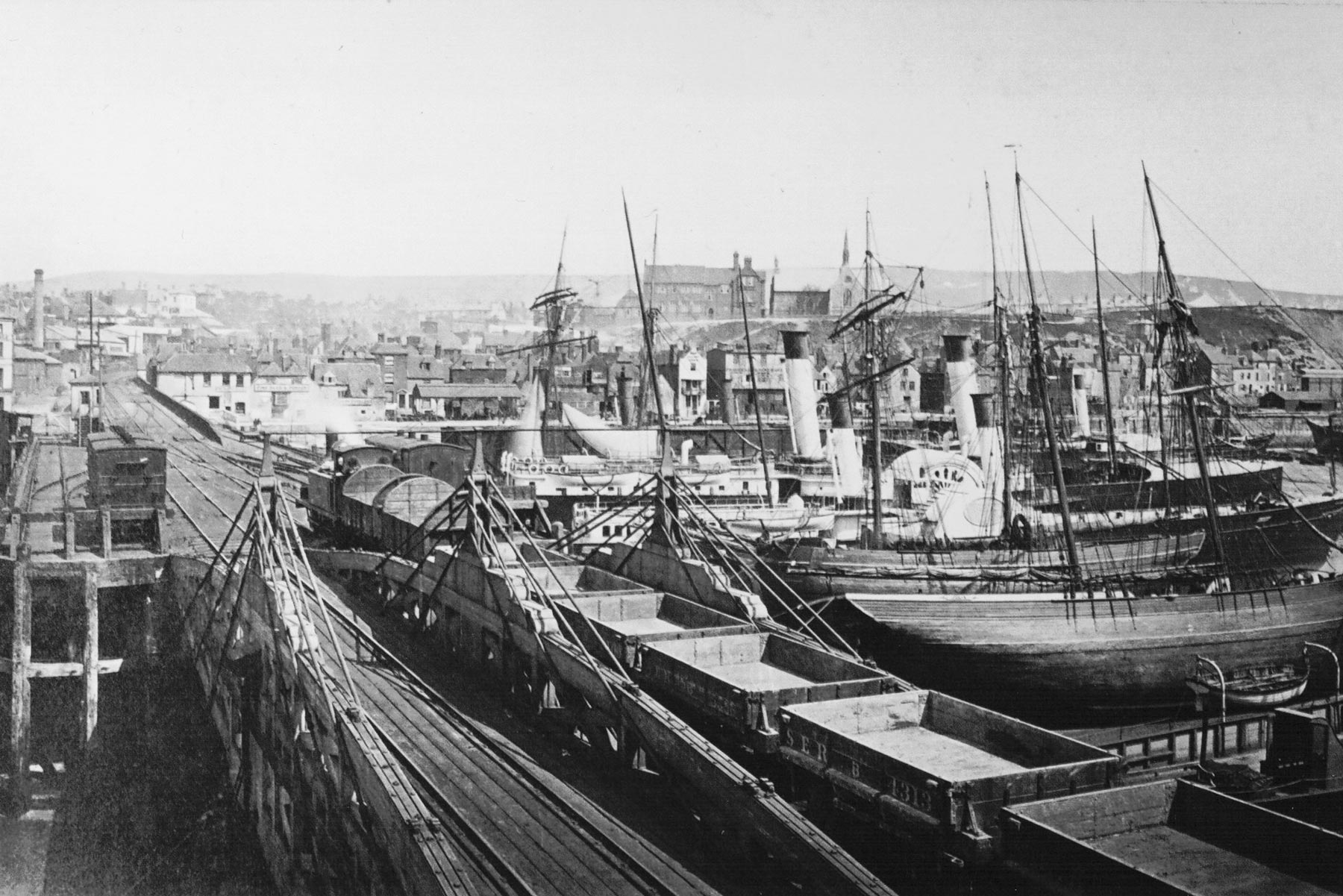 ---
After making its way down the steep 1:30 incline to the harbour, the line was carried out over the water to the south quay and pier (nowadays known as the 'Harbour Arm') on 13 red-brick arches (the most northerly arch is hidden by the jetty access slip). The viaduct was designed by William Cubitt, Chief Engineer of the line, who also designed the spectacular Foord Valley Viaduct on the main line (also Grade II listed) that dominates the town. Originally the viaduct carried two tracks and on either side were parallel timber freight jetties.
A wooden Swing Bridge connecting the Viaduct across the 150-foot gap to the south pier was completed in 1847. The Viaduct and bridge divided the harbour into 'inner' to the west and 'outer' to the east, but when pivoted the bridge allowed taller boats in and out of the inner harbour. Rails were not laid across the bridge until 1849 and passenger traffic began with the first passenger train reaching the harbour station on 1st of January 1849 and all was complete with Rails which were laid across the swing bridge in 1850 and Folkestone Harbour station opened. Until then the line was largely used to transport coal.
In its first decades, Folkestone provided the most popular cross-Channel route, but was overtaken by the slightly shorter Dover-Calais crossing in the late 1860s.
Photography courtesy of Alan F. Taylor, Folkestone & District Local History Society