A rare example of harbour viaduct
The current steel swing bridge, designed by George Ellson, Chief Engineer for Southern Railway, dates from 1930. It was rotated using an electric capstan on the wharf and a rope, and the lifting and locking mechanisms were operated by hand. The stone piers it sits on date from an intermediate bridge built in 1893/4 to allow heavier trains to cross.
Both the Swing Bridge and Viaduct were listed Grade II in 2012 by Historic England, and together are noted as a rare example of a harbour viaduct. Historic England commented:  'The Viaduct is a bold piece of railway engineering infrastructure which forms an integral, and primary, element of an important early rail/sea passenger interchange.'
Folkestone's demise as a rail/sea port began with the closure of the goods yard in the 1960s, and was followed by dwindling demand for the ferry service in the 1990s. Once the Office of the Rail Regulator officially closed the branch line in 2014, Folkestone Harbour & Seafront Development Company was able to begin work to open the space up to the public, incorporating the viaduct into a new network of landscaped walkways linking town, harbour and shingle beach.
The Viaduct arches were repaired in 2017, and the Swing Bridge was shot blasted and repainted in SER livery green. However the bridge's swivel mechanism had been cemented in place in the 1970s and sadly it proved unviable to make it operate again.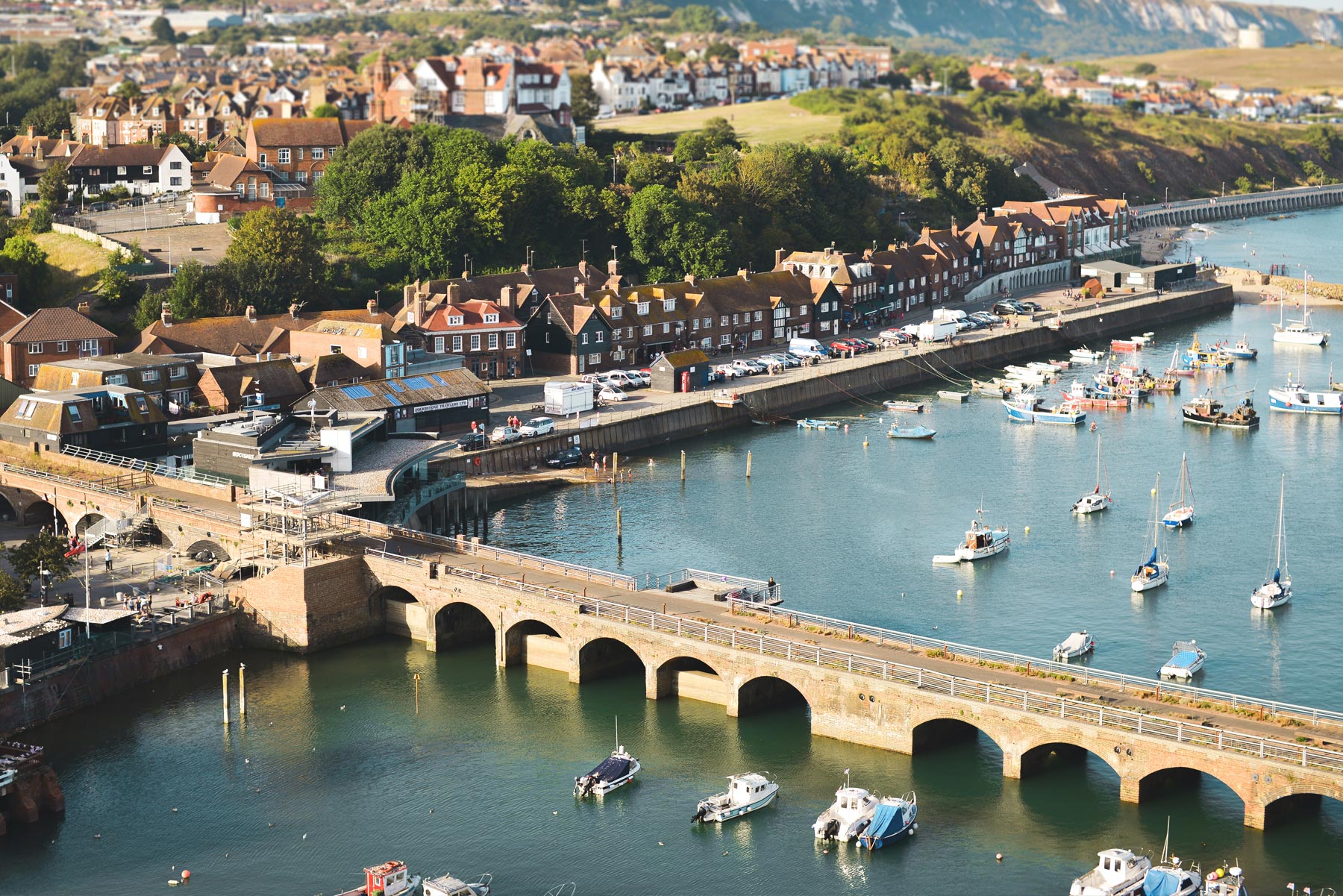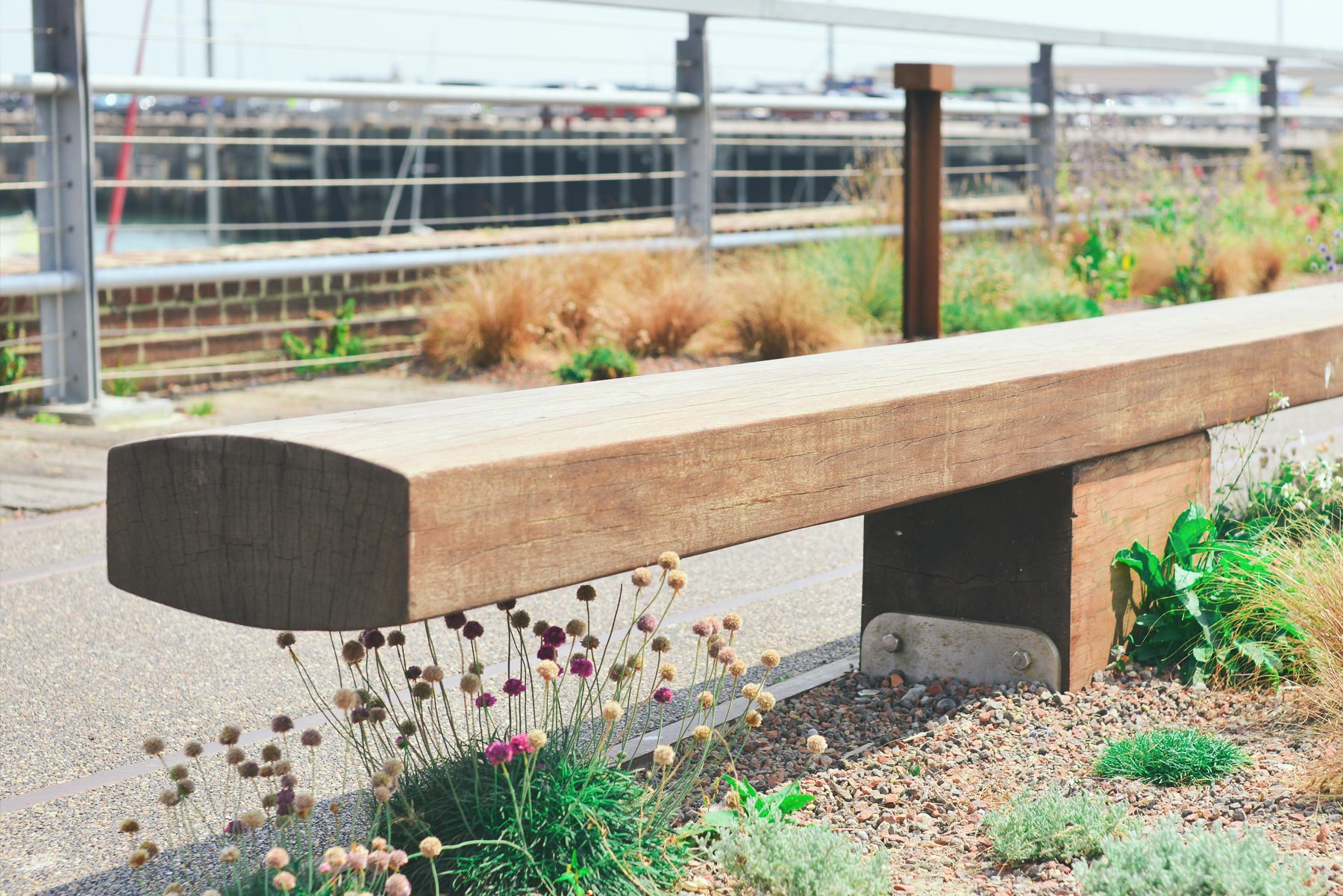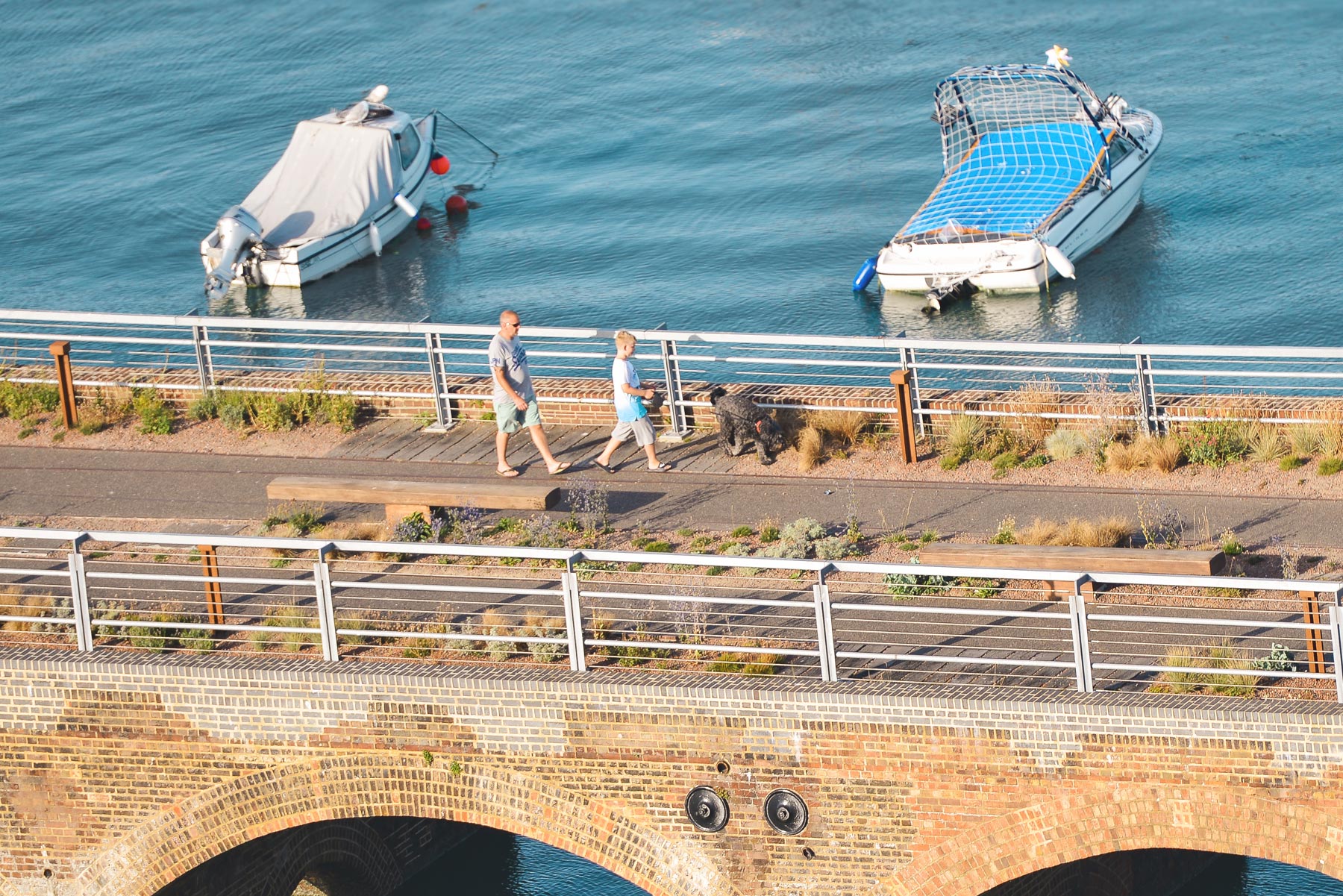 ---
A link between the town and the restored Harbour Arm
Strolling along the viaduct and across the bridge, it is still possible to see the old rails embedded in the concrete surface. The constant run of trains that once animated Folkestone Harbour is now recreated by steady streams of people crossing from the Fountain Square, Creative Quarter and The Old High Street to enjoy the restored Harbour Arm.
The experience is enhanced by landscaping that follows through to the Folkestone Harbour station. Shingle gardens anchor it in the local coastal setting, planted with native wildflowers and grasses that will mature and become denser over time. A viewing platform midway, fitted with benches made from oak sleepers, offers the opportunity to pause to enjoy views of the chalk cliffs and the headland of Copt Point to the east.
The Viaduct and Swing Bridge are part of a set of listed historic harbour structures along with the Pier Head Lighthouse and the 1829 East Head.
This project has been assisted by a grant from the Regional Growth Fund, with support from the South East Local Enterprise Partnership, Kent County Council and Shepway District Council.
The Design Architects for the project are ACME
Find out more about this award-winning Viaduct on Folkelife.