Left in ruin after WWII
Although only a small portion of the original building remains today, Folkestone's Customs House was once a grand Italianate building befitting of the town's importance in Victorian and Edwardian times, and the building's role as both the centre of activity on the harbour and the gateway to Britain. Passengers stepping off the boat from France would pass through its hall before boarding the train to London. It was designed by architect James Murray and completed in 1859 following the extension of the rail line to the harbour and the building of the harbour station by South Eastern Railway. The building was modified in 1893 when the new station platforms were built.
Heavy shelling of the harbour in the Second World War, culminating in a devastating long-range artillery attack in October 1942, left the building heavily damaged and following the war, most of the ruined structure was demolished leaving just the western bay, adjacent to the station, intact. According to a plan of the Customs House printed in Building News on 14 January 1859, this section was used as a cloakroom, telegraph room, and as a cording room for baggage. Next to it would once have stretched the baggage hall, surrounded by various refreshment rooms, and waiting rooms. Beyond, in a two-storey section of the building, were offices and the Queen's warehouse.
Photography courtesy of Alan F. Taylor, Folkestone & District Local History Society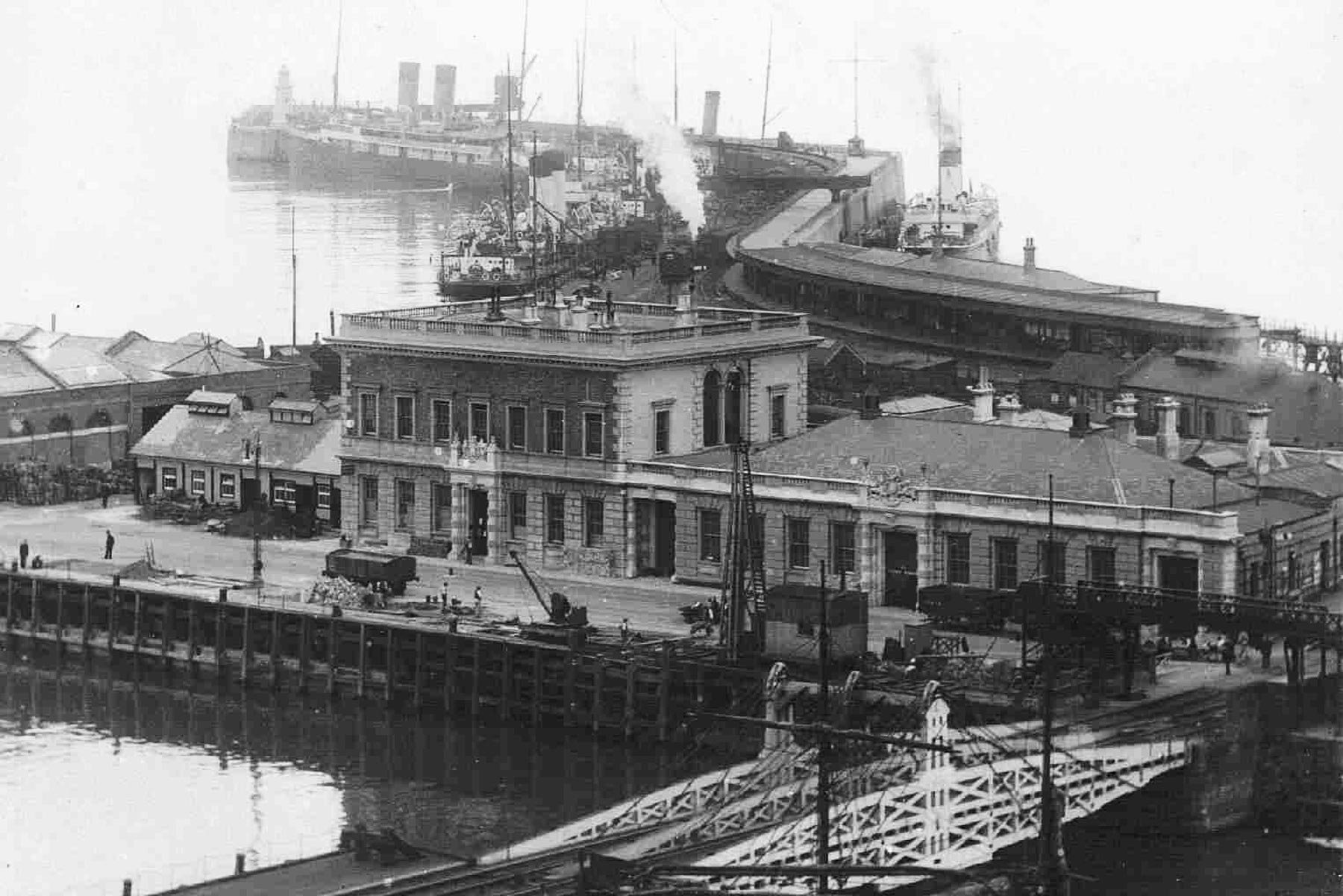 ---
A new community space
Folkestone Harbour & Seafront Development Company restored the remaining fragment of history in 2017, repairing the roof and cleaning the stonework, including the carved head of Poseidon – Greek god of the sea and protector of seafarers – that presides over the doorway.
During the 2017 Folkestone Triennial, the space was used as an 'urban room', a community space curated by Diane Dever and The Decorators hosting ongoing events, workshops and discussions exploring the history and identity of Folkestone, and how it might evolve in the future.